I am the first to admit that my idea of outdoorsy is a perfectly groomed patio with a glass of Pinot Grigio in my hand. I don't hike and I don't camp. Then 2020 cancelled all of my tours and big city weekenders and that is how I found myself with a 27 foot trailer and several camping trips in the works. Let's just say after a few months of quarantine and social distancing- any type of travel was sounding pretty good. We live in Utah, home to 5 National Parks (Zion, Arches, Bryce, Canyonlands and Capitol Reef) and we are only 4 hours from Yellowstone and Grand Teton so there is really no excuse for me.
Traveling by RV in the summer of 2020 was the perfect way to social distance while seeing some place other than your front yard. After a few close to home trips to acclimate to our new rig, we hit the open road! My 3 kids, 1 niece, husband, and myself loaded into the family SUV and towed the trailer north to Yellowstone National Park and then all the way to Glacier National Park!
We camped just north of West Yellowstone, MT at the Rainbow Point campground. While this was a beautiful campground with nice tall trees, there were so. many. mosquitos. It's hard to relax by the campfire while being eaten alive. I expect some bugs, but this was extreme.
But, we were there for Yellowstone not the campground so we powered through the bugs and enjoyed our first day in the park visiting Old Faithful and some of the other geyser basins in that area of the park. This is my favorite section of Yellowstone. The boardwalks are relatively short and easy to navigate with kids and they get you up as close as possible to the various geysers, mud-pots and pools. Old Faithful is a great place to be around lunchtime. There is a large visitors center here with a gift shop, restrooms, and restaurant and snack bar. We were unsure of what exactly would be open during the pandemic so we packed a picnic and found some picnic tables in this area.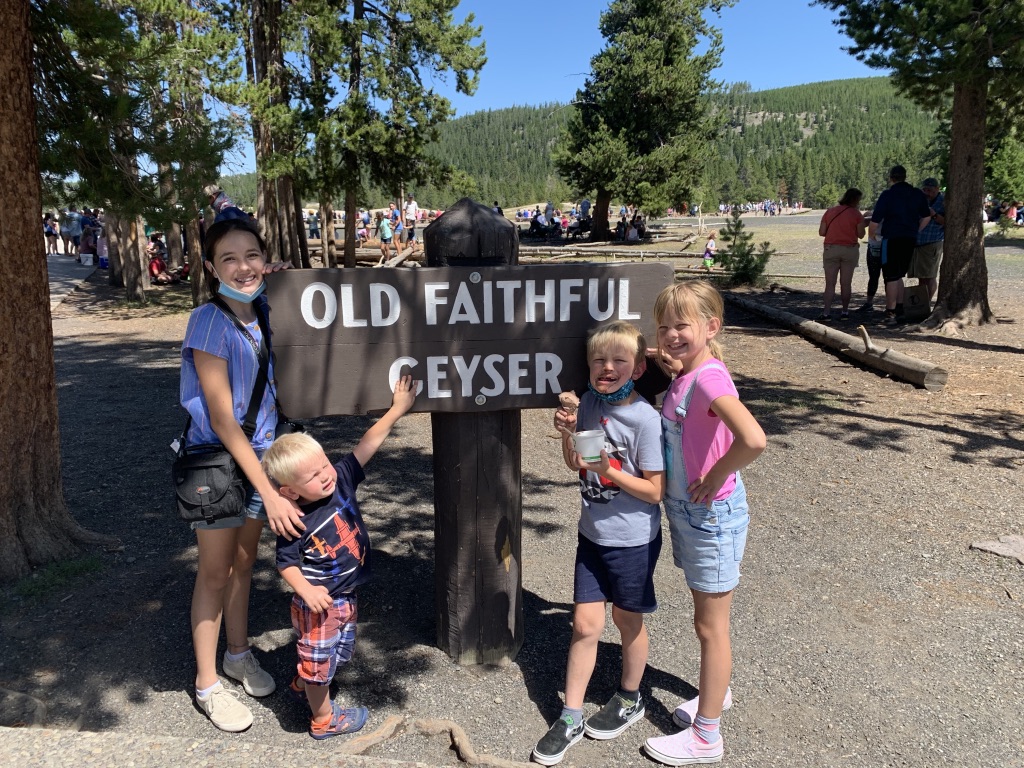 Our second day in the park was our day to see wildlife. We really didn't have much luck in that department. We narrowly missed a mamma grizzly with two cubs. By the time we pulled over and got out of the car with cameras ready, she had gone behind some trees and didn't seem to want to come back out. After that we spot an elk and then finally a whole herd of bison! The northern more remote edge of the park is the most ideal place to spot wildlife and Hayden Valley is ideal for bison herds. Keep in mind that Yellowstone is massive and you can only really explore one are of the park per day. We only had two days so we really had to pick and choose what we wanted to see. You can spend hours in the car to go from one end of the park to another. When we were there, a major connecting road was closed which didn't help. Check closures before you go and plan accordingly. Make sure you have an old fashioned map as well as cell service isn't the best.
After the wildlife search we were ready for dinner and left the park to shop and dine in West Yellowstone. West Yellowstone is right on the Montana/Wyoming border and is right at the west entrance to Yellowstone. It is the perfect place to stay in order to explore the park. There are all the usual hotel chains as well as souvenir shops and restaurants. The town is very small, but gets very busy in peak season. I absolutely recommend booking your trip well in advance as the town frequently sells out.
Just two days in Yellowstone is not enough, but we had all been before and wanted to check Glacier National Park off the list. We are so glad we did this. Glacier is perhaps the most beautiful natural scenery I have ever seen. Glacier sits right up on the northern border of Montana and extends right into Canada. It is known for amazing hiking, but since we had little kids along we mostly explored from the car and were still blown away by the beauty of this park. Our first day we drove the Going- to- the- Sun Road. This is not only a stunning view of the mountains and glacial valleys, but a feat of engineering. Completed in the 1930's this road clings to the side of a cliff nearly the whole way up to Logan Pass. Normally there are little red mini busses that will do the drive for you so that you can enjoy the ride. They were closed in 2020, so we made the drive on our own. I highly recommend joining the bus tour if you can. If not- keep your eyes on the road!
A portion of the road widens about half way up where you can stop and stretch your legs. The picture above does not adequately portray the beauty of this place. While Glacier is known for its robust grizzly population, the only animals we saw at the park were mountain goats! I had never seen them in the wild before and it was so cool to see them clinging to the edge of the cliff and scampering back up to the top with such ease and grace. When we finally reached the summit we stopped at the visitors center and right there on the trail nearby was a mountain goat right up close! I had no idea they are so big!
Lake McDonald near the entrance of Glacier was our only stop for the next day and is perhaps my favorite day of 2020. The lake itself is pristine with the clearest water I have ever seen and the alpine mountains create a breathtaking backdrop. Our visit was quiet, calm, and so very relaxing. If your itinerary allows and weather cooperates, plan a full day swimming at Lake McDonald. We swam near Apgar Village, but you can also access the lake from the Lake McDonald Lodge. We liked the Apgar Village access point because the village had a few souvenir shops, eateries, and a restroom all close by. At the time of our visit, Lake McDonald Lodge was closed to visitors without a reservation.
We stayed at an RV park about 15 minutes from the parks entrance. If you are not camping, I recommend staying in Whitefish, Montana. It is a very charming and well kept town about 30 minutes from Glacier. The main street in town has unique shops and lots of great restaurants to choose from. We absolutely fell in love with Whitefish. This area of Montana is just beautiful.
We took two more days to drive home stopping at a remote hot springs in Montana and then Sun Valley, ID. This trip salvaged an otherwise very disappointing year for me. After a summer with the trailer I learned to appreciate the natural beauty of the country. Yes, there were bugs and the occasional outhouse, but the beauty of these two national parks, outweighed the cons. While I love big exciting cities, there is really nothing more relaxing after a day of exploration than sitting at your campfire with a glass of wine and some s'mores.
Contact us today to book your National Park adventure! laurahart@likemindstravel.com