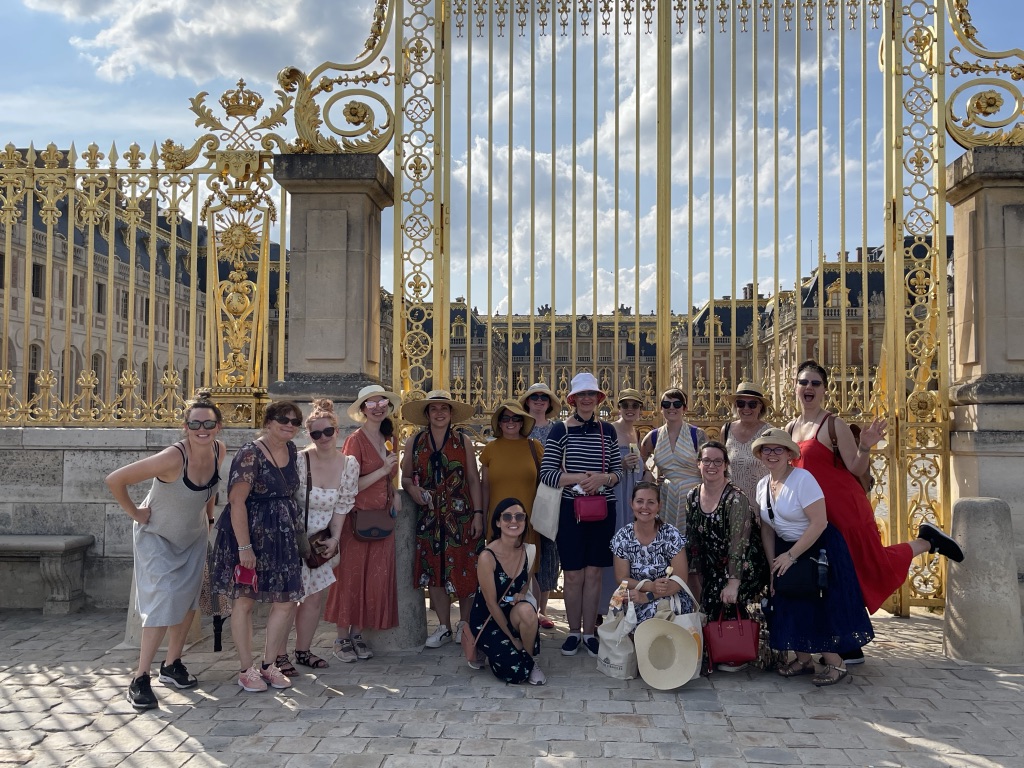 June 19-27, 2023
From Worth and Poiret to Schiaparelli and Dior, see the birthplace of haute couture and explore the reason why Paris remains a global arbiter of style. Join April Calahan and Cassidy Zachary on an adventure through the fashion capital of the world! Get exclusive looks into fashion history balanced with plenty of free time to master that joie de vivre like a true Parisian.
Art, cuisine, literature, history, romance…Paris is known for so many delights! Don't miss your chance to see the "City of Lights" with like-minded fashion enthusiasts and your favorite fashion historians!
DAY ONE- Enchanté and welcome to Paris! Check in to the charming Hotel Joséphine (fittingly inspired by the legendary chanteuse and style icon Josephine Baker), relax and get ready to meet your fellow travelers and April and Cassidy at tonight's cocktail party at the hotel.
DAY TWO- The Palais Galliera, the Fashion Museum of the City of Paris, is the perfect start to our time together. With more than 200,000 pieces in the museum's permanent collection we will visit the permanent galleries for a survey of fashion from the 18th century to today. We will also visit the museum's special thematic exhibition, which has yet to be announced.
After enjoying lunch on your own we reconvene for a walking tour of the fashionable Rue de la Paix developed by April and Cassidy exclusively for this tour. April and Cassidy regale us with tales from the bustling street where the societal elite came to shop in the late 19th century. See where Worth made his beautiful, highly sought after creations, where Cartier first sparkled and where Schiaparelli got her start and where the premises of her couture house still remains today.
The walking tour ends conveniently, near the magnificent Palais Garnier- the Paris Opera House, our next stop. Our visit begins touring the opera house, the architectural jewel of the Belle Epoque, and ends with a private tour of the costume workshop. This exclusive tour will reveal the backstage secrets of costume and millinery design and creation as well as showcasing the costumes currently on stage. After discovering the secrets of costuming, the rest of the day is yours to enjoy. Maybe some shopping at the Galeries Lafayette- be sure to check out the city view from the rooftop deck!
DAY THREE- Today we visit the Marais neighborhood of Paris, home to the Musée Carnavalet. The newly renovated museum gives visitors an in depth look at the history of Paris. April and Cassidy will lead a tour on fashion during the French Revolution, and we will view some rare surviving examples of Marie Antoinette's wardrobe. The Marais is full of delightful eateries, find yourself lunch before we meet up again.
Azzedine Alaïa is the undisputed king of cling! Our next stop on this fashion history deep dive is the Fondation Alaïa to see the couturier's creations up close. A lover of fashion history himself, Alaïa's own personal collection of vintage haute couture is also frequently on view.
It is time for something truly unique- a live recording of your favorite podcast! We will be joined by fashion historian and haute couture embroiderer Nadia Albertini to discuss her book Rébé: Broideries Haute-Couture. This will be followed by the opportunity to take an in-person embroidery class with Nadia where you will embroider a vintage Rébé motif created for Dior.*
DAY FOUR- Today we explore the world of Marie- Antoinette, the 18th century Queen of Fashion. We head to Versailles on a private motor coach while Cassidy and April regale us about court etiquette before exploring the excesses of the palace and the beauty of the vast gardens for yourselves. Begin with an audio-guide of the main state rooms of the palace. After marveling at the grandeur of this former hunting lodge turned palace, meet the group in the garden for a picnic lunch alongside the swans gliding peacefully on the Grand Canal
April and Cassidy will provide some background for the fashions popular at the court of Marie-Antoinette as we enjoy a delicious French feast with freshly made quiche, salads, cheese and baguettes. We continue our tour of Versailles deep in the gardens with a visit to the often overlooked Petit Trianon and the Queen's Hamlet. The Petit Trianon was Marie- Antoinette's private escape from court life, and while much smaller than Versailles, it is no less opulent. The Hamlet just beyond the Petit Trianon was a small village built in the Norman style for the Queen to revel in bucolic diversions (which included a flock of sheep dyed pink!). It is straight out of a fairy-tale. Return to Paris on our private motor coach and enjoy the rest of your evening.
DAY FIVE- With so much to offer, we know you have those bucket-list activities in Paris you'll want to visit while you are here. Today we take a brief break from the official tour and give you the opportunity to discover Paris on your own. April and Cassidy have curated a wonderful list of recommendations for those wanting to dive deeper into fashion history on their own.
Tonight you have the option to visit a Parisian must, a sultry evening at one of the world's top cabarets! The Crazy Horse Cabaret offers a tasteful nearly-nude show that is described as sexy, chic, and quirky. Enjoy the 90 minute dazzling show with Cassidy, April, and your fellow travelers over a glass of champagne.*
DAY SIX- It is time to pick out that perfect fashion history treasure to take home as a souvenir, and there is no better place to find it than at Les Puces, the oldest flea market in Paris. Cassidy and April start our day here with a history lesson about Les Puces before recommending vintage and antique purveyors of everything from 18th century fans to vintage haute couture. More interested in fashion ephemera? There are thousands of fashion magazines and illustrations for sale, including many of the hand stenciled fashion plates featured in Cassidy & April's book Fashion and the Art of Pochoir. Rummage, explore, and shop to your heart's content and then the rest of the day is yours to explore the city of light!
DAY SEVEN- Today we also step into the realm of the demi-monde and into the home of one of Paris's most famous courtesans and haute couture clients, La Païva. During this exclusive private tour of La Païva's sumptuous mansion, we will learn more about the lives of the grandes horizontales, how courtesans accumulated immense wealth and fashionable influence in the upper echelons of Parisian society. Our private tour will showcase marbles by Rodin, paintings by Baudry, and a bathtub that dispenses milk, lime-blossom water and champagne!
After the excess of La Paiva we will gaze upon the elegant creations of Christian Dior at the newly opened Le Galerie Dior. Immerse yourself in the luxury world of Dior while learning the story of the House of Dior through stunning visuals including never before displayed before gowns and accessories. A not to be missed stop on our fashion journey through Paris! The evening is once again yours to relax.
DAY EIGHT- Paris is best enjoyed with all five senses. Today we use our sense of smell to create our own blend of perfume at the legendary French perfumer, Fragonard! We will be greeted by our "nose" led through all the scents necessary to create the perfect perfume. We take our newly mixed perfume, Fragonard apron, and a diploma as souvenirs of this uniquely French activity! With our new found knowledge of the deep, mid, and top notes necessary for the perfect scent we explore the perfume museum at Fragonard. Learn the perfume making process from plant to bottle as well as the history of this uniquely French industry.
Tonight we say "au revoir" to our fellow travelers over a lovely French meal. We will reminisce about all the great times we've shared, the incredible things we have seen, and the friendships forged.
DAY NINE- Savor that last croissant before checking out of the hotel. Safe travels!
This is truly a one of a kind tour designed for fashion history lovers by your favorite fashion historians. Don't miss your chance to share this once in a lifetime experience with like-minded travelers!
Your Knowledgeable hosts:
April Calahan is a fashion historian, writer and professional podcaster living and working in New York City. She serves as a Special Collections curator at the Fashion Institute of Technology, and her work has been featured in Vogue, Harper's Bazaar, WWD, Architectural Digest and The Business of Fashion. She has lectured at cultural institutions around the world including Los Angeles County Museum of Art, Yale University, National Gallery of Victoria, Melbourne and Parsons School of Design. In addition to authoring/co-authoring three books on the history of fashion, she is also the co-Executive Producer/Host of Dressed: The History of Fashion.
Cassidy Zachary is a fashion historian specializing in the social and cultural significance of dress throughout history and today. She is an executive producer and co-host/creator of the award-nominated podcast Dressed: The History of Fashion. Her work can be found in Vogue, The New York Times, and WWD among many publications. She is the founder of the popular blog turned Instagram account The Art of Dress where every week she shares her passion for fashion history with over 300,000 followers around the globe.In addition to co-authoring the book Fashion and the Art of Pochoir, she has contributed to numerous publications on fashion and has lectured on the topic throughout the United States. She is currently pursuing her PhD in History at the University of New Mexico where she is studying the intersections of fashion, race, and colonialism.
*Asterisk indicates an additional fee. Please indicate if you would like to participate on the registration form.
YOUR PACKAGE INCLUDES:
8 Nights at a 4- star centrally located boutique hotel
Welcome cocktail party
Breakfast each day
Palais Galliera
Musée Carnavalet
Le Galerie Dior
Rue de la Paix walking tour
Guided tour of the Palais Garnier, complete with the exclusive tour of the sewing workshop
Live podcast recording
Versailles state rooms, gardens and Petit Trianon
Luxury picnic at Versailles
visit to Les Puces
Fondation Alaia
Private guided tour of La Paiva Mansion
90 minute perfume workshop at Fragonard- your own signature blend as a souvenir!
Fragonard Perfume Museum
Authentic French farewell dinner
Gratuities for all tour guides
Paris Metro pass
Private transportation to Versailles
Awesome Swag!
Optional Crazy Horse Cabaret show
Optional embroidery workshop
Package Price:
The package price for a double occupancy room is $3,500 per person. A single occupancy room is $4,450. A per person $750 deposit is required at the time of registration to hold your spot on the tour. The deposit is fully refundable until January 18, 2023. The final payment will be due May 30, 2023 and is non-refundable.
Airfare and transfers are not included. We recommend flying into Charles de Gaulle (CDG) Airport. Taxi's and ride shares are the recommended method to get to the hotel.
Many travelers prefer to fly to Paris a day before the tour starts to rest off the jet lag. If you require extra nights at the hotel, please email Laura Hart at laurahart@likemindstravel.com to arrange it for you.
Please read terms and conditions
This tour is for travelers 18 and up. The maximum group size is 25 people.
We will be relying primarily on the Paris metro to get around Paris and therefore you can expect to walk several miles a day and encounter lots of stairs.