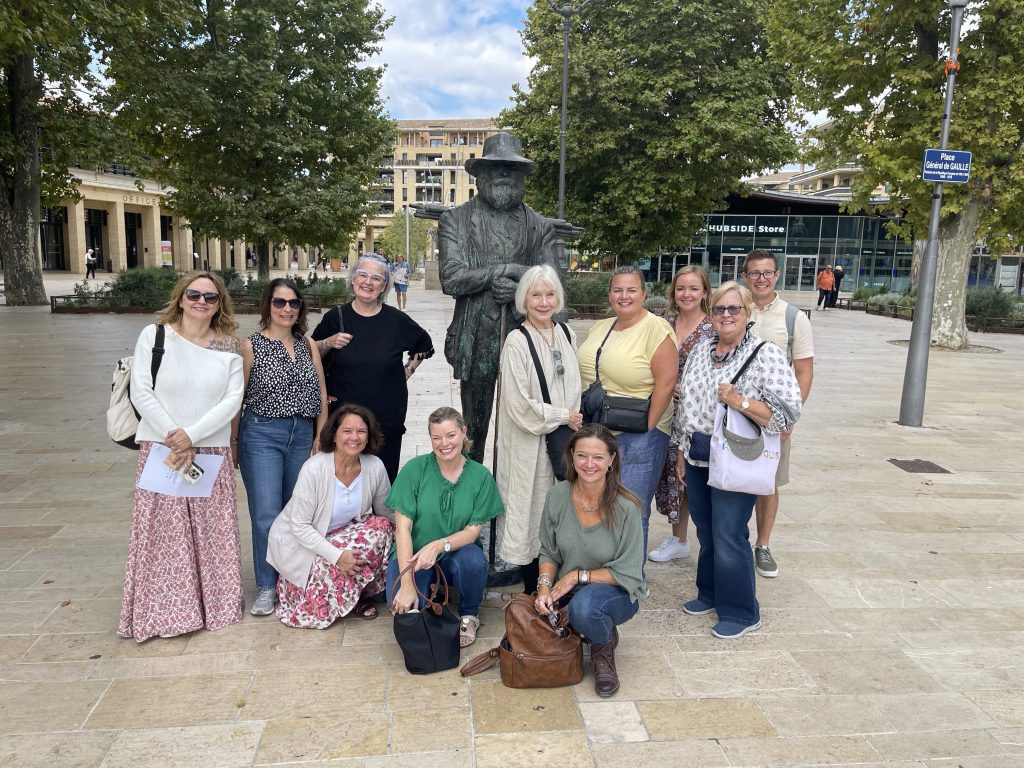 September 18- 26, 2022
Matisse, Picasso, Cézanne, Chagall…artists have always flocked to the south of France–some for the sun and others for the scene. Now you can experience both for yourself. Soak up the beautiful sunlight that has inspired artists past and present as you join Jennifer Dasal, host of the ArtCurious podcast, for a week-long deep-dive into the modernist painters who called the French Riviera home. Enjoy Mediterranean views from hilltop villages, relax with a glass of wine in old town Nice, or indulge in the unique cuisine on our artsy romp through the south of France while making lifelong connections with fellow art history lovers.
DAY ONE- Enchanté and welcome to the sun-drenched French Riviera! Check into Le Deck Hotel and relax before meeting your fellow travelers and art enthusiasts at the welcome gathering over cocktails and canapés!
DAY TWO- Home to the largest collection of Marc Chagall's work, we begin our ArtCurious tour of southern France at the Musée National Marc Chagall. Our guided tour will cover the top works of the museum and still allow you to discover your own favorites. After a delicious lunch on your own, we visit the Musée Matisse. Set in an old villa, you'll learn about Henri Matisse's masterpieces that showcase the influence of the gorgeous Mediterranean sunlight. Then you'll be ready to soak up your own rays. The rest of the day is yours.
DAY THREE- Sun, art, wine, and perfume are top of mind when one thinks of the south of France. Our day begins in the heart of the perfume industry, Grasse, only a short drive from Nice. We begin our day at the Fragonard Factory, creating eau de toilettes since 1926, to learn about the production of perfume and the industry. Then it's onto their workshop to create our own signature blend to bring home as a very personal souvenir. Freshly scented and honorary "noses," we leave the Fragonard factory to explore Grasse on our own. Visit the other perfume factories, shop, or visit the small art museum dedicated to Grasse's favorite hometown artist- Jean-Honoré Fragonard! We return to Nice in the late afternoon.
DAY FOUR- Antibes is the perfect mix of ancient and modern. Narrow lanes and medieval buildings frame the glamorous sandy beaches and France's largest yacht harbor. Before our arrival in Antibes we will stop in Cagnes-sur-Mer to explore the Renoir home and studio. Pierre-Auguste Renoir called this place home for the last 12 years of his life and enjoyed painting, sculpting, and tending to the gardens. Today, visitors enjoy the home-turned-museum and the beautiful natural inspiration reflected in Renoir's works. Once we arrive in Antibes, you will have a chance to explore the city as you have lunch on your own, followed by a visit to the Picasso Museum. Set in an old chateau, once home to the artist himself, this museum primarily exhibits works from Pablo Picasso's time in Antibes. Following our visit to the museum, the rest of the day and evening are yours to discover this seaside village. Make your way to the sandy beaches with a good book, or take a walk through the medieval old town. We will return to Nice in the late evening.
DAY FIVE- It is market day in Aix-en-Provence and the perfect day for our visit. Just about a two-hour drive from our home base of Nice, this small town was once inhabited by post-Impressionist Paul Cézanne. The artist's studio is preserved as it was the day he died and is our first stop. We will learn about Cézanne and his life here before exploring and lunching on our own in the heart of Aix. Later we will visit Musée Granet, popular for its collection of post-Impressionist works and– of course– a few Cézannes. With a laid back glamour, Aix is one of the most beautiful cities in France. Take the evening hours to stroll down the tree-lined Cours Mirabeau and relax with a drink under the shady trees. We will return to Nice later in the evening.
DAY SIX- While Nice is known for its art, it's also known for the lavish lifestyle of the rich and famous. Owned by the eccentric Béatrice Rothschild, Villa Ephrussi is a pale pink mansion with stunning picturesque sea views and groomed gardens. Just a short drive from Nice in the village of Cap Ferrat, our audio guide tour of the mansion will culminate in a lovely three course lunch, complete with local wine, before we head back to Nice. The afternoon is yours to relax before we all board a 72- foot catamaran for a sunset cruise on the Mediterranean Sea. Breathtaking views, drinks, and canapés will delight us as we bask this once in a lifetime experience
DAY SEVEN- Hilltop towns abound in the south of France, and none are more spectacular than the village of Vence, just 30 minutes from Nice. With views to the sea and the Alps, it is described as something right out of a postcard. Nestled in the village is Fondation Maeght. This unique museum is home to a great collection of the modernist artists that made the south of France home. Take your time discovering this incredible village after our visit to the Fondation Maeght before we move onto the nearby village Vence.
The slightly more modern town of Vence is where Matisse designed the Chapel of the Rosary, our next stop on the tour. This chapel is often met with mixed reviews. Now you can decide if Matisse's full genius is revealed or if Picasso's "looks like a bathroom" description is more accurate. After Vence we make our way back to Nice for another free evening. Go dine al fresco in the famous square, Cours Saleya, or promenade on the Promenade des Anglais!
DAY EIGHT- We have packed a lot into this tour, but believe it or not there is still so much to see. Today is for you to check those bucket list items off your list. Have you always wanted to gamble in Monaco, taste wines fresh from the vineyard, feel the glamour of Cannes, discover more art, or decompress on a lounge chair soaking up the Mediterranean rays? Today is yours to fit it all in before we gather one last time for our farewell dinner in Nice.
DAY NINE- We must say au revoir and check out of the hotel to make our way home. We know you will leave France with a deep appreciation of the local culture and a renewed passion for the art, but we hope you also leave with lifelong friends as passionate about art and its history as you are!
Like Minds Travel may change the itinerary at any time if deemed necessary for the success of the tour.
PACKAGE INCLUSIONS:
8 nights accommodations at Le Deck Hotel, a 4 star centrally located establishment
Breakfast each morning
Sunset sail on a 72 ft catamaran with drinks and canapés
Farewell dinner in Nice
Welcome cocktails and canapés
Guided tour of Musée National Marc Chagall
Musée Matisse
Parfumerie Fragonard Museum
Parfumerie Fragonard workshop
Musée Picasso
Musée Renoir
Guided tour of Atelier Cézanne
Musée Granet
Fondation Maeght
Chapelle Matisse
Villa Ephrussi
Lunch at the Villa Ephrussi
Transportation by private motorcoach to tour events
Awesome ArtCurious Swag!