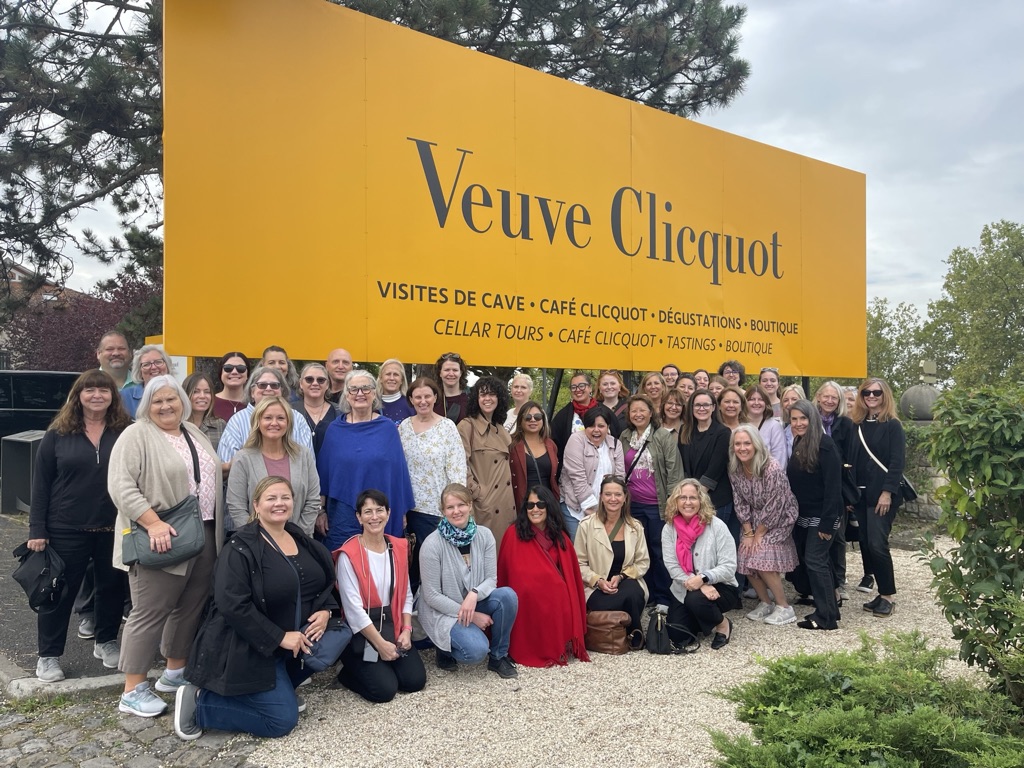 October 1- 9, 2023
SOLD OUT!!!
SIGN UP FOR THE WAITLIST BELOW…
Paris – The most-visited city in the world!
Whether you're biting into a crisp croissant, gazing at the glittering Eiffel Tower or strolling along the Seine, it delights your senses at every turn. Join your favorite podcast hosts, Susan and Beckett from The History Chicks, for a delightful romp through the City of Light. Together we will discover the many notable women who have called Paris home: from an inspired teen with a vision to save France; to a widow who built a bubbly empire; to a plucky American who tasted food that would change her life. Don't miss your chance to see Paris as never before- because, yes- Paris is always a good idea!
Day One- Enchanté and welcome to Paris! Make your way to our charming hotel and settle in. This evening gather at the hotel to meet your fellow travelers over aperitifs- happy hour the French way! Watch the iconic monuments of the grand city light up the night sky on our post- cocktail double decker bus tour.
Day Two- Rise and shine and enjoy a full hot breakfast before meeting the group for our Women of Paris walking tour. We meet up with a local guide to hear the stories of notable Parisiennes and ex-pats while taking in some of the city's great monuments. Grab lunch on your own at one of the many enticing sidewalk cafés. We will regroup this afternoon for a visit to La Conciergerie. This imposing medieval palace was once home to queens before becoming a prison to another, Marie Antoinette. She was locked up here during the revolution, before meeting her fate at the guillotine. After our self-guided visit to La Conciergerie, you will admire the unrivaled stained glass of La Sainte- Chapelle. This tiny 13th century chapel was built to house relics including the crown of thorns and was the place of worship for kings.
After taking in the magnificent stained glass, the evening is yours to explore the City of Light. The Marais district is just across the river. Perhaps a visit to Victor Hugo's home before a stroll around this popular neighborhood? Or maybe do as the Parisians do- find a spot at a little café and watch the world go by.
Day Three- No palace can rival the opulence that is Versailles and perhaps no other queen can rival its most notorious resident, Marie Antoinette. Today we explore Versailles and its past inhabitants in an audio-guided tour of the main state rooms. Marvel at the ornate furnishings and waltz down the hall of mirrors of this former hunting lodge before we break for lunch and then continue our visit at the Petit Trianon- a small chateau built at the request of Madame Pompadour and later gifted to Marie Antoinette by Louis XVI.
Tucked away far from the palace you will discover this private getaway where Marie Antoinette sought refuge from the rigors of court life. Here she could be herself and get a glimpse of a simpler life. Do not miss the Queen's Hamlet nearby- a recreation of a Norman village complete with a working farm!
After returning to Paris in the late afternoon, we rest up and then venture to Le Vieux Belleville for what just might be the most fun you will ever have at a dinner! This highly rated yet down to earth restaurant has been dishing up classic French cuisine while serenading guests with classic French tunes for decades- think accordions and Edith Piaf's I Love Paris! A night to remember!
Day Four- Artists flocked to Paris during the Belle Epoque and forever changed the art world. Today we will visit the museum dedicated to the Impressionists works, Musée D'Orsay. We will join local guide Elisa for the Women in Art guided tour. Learn the stories of the many women represented in these once controversial now classic works of art. The afternoon is yours to do with as you wish. Cross the river and visit Paris' most famous female, the Mona Lisa at the Louvre or sit back and relax in the beautiful Jardin des Tuileries.
We meet again in the late afternoon to sample two things that the French do best- cheese and wine! Yes, no trip to France is complete without sampling the delight of le fromage et le vin and we are going to learn from the best! We join two delightful Frenchman at a charming restaurant in the elegant St Germain des Prés neighborhood to sample eight classic French cheeses accompanied by three types of artisanal sourdough breads and seasonal fruit. Our guides will then guide us through the tasting of four unique French wines before concluding the event with a sweet bite. After this lovely afternoon, the evening is yours to enjoy!
Day Five- Let's leave the city behind for a day and venture to Champagne Country! The village of Reims is the heart of the world-renowned region. We arrive in time for a gastronomic experience like no other- lunch deep in the caves of the Veuve Clicquot champagne house. We will be joined by a brand ambassador to regale us with the incredible story of the widow that turned the champagne industry upside down and changed it forever. After this inspirational story we indulge in a one of a kind seven course lunch and yes- we sample plenty of that oh so sought after yellow label synonymous with luxury.
Reims has much more to offer than a bit of the bubbly! After our decadent lunch we will head over to the main city center and tour Notre Dame de Reims. This massive ornate cathedral was the site of coronation for French kings for centuries. Tour the cathedral at your own pace, don't miss the statue of Joan of Arc just outside the cathedral- she did save the city from the English army after all. After marveling at this massive cathedral, feel free to meander the charming streets of Reims before we return to Paris for the evening. – we won't meet back up until this evening for the ultimate Parisian experience at the Moulin Rouge! Yes you can can can enjoy the most iconic French cabaret over drinks and the most infamous dance show around!!!*
Day Six- Up next- another delightful day trip to the Norman countryside with a visit to Rouen! As we leave the sprawling city behind you begin to get glimpses of this verdant countryside that has inspired artists and chefs alike! We begin our day at Historial Jeanne D'Arc, a museum dedicated to Joan of Arc. It was here in Reims that she took her last breath before being burned at the stake. The actual location of this tragic event just so happens to be in the charming market square of this adorable town- just steps from La Couronne, our next stop.
La Couronne is known for one thing- serving up Julia Child's first ever meal on French soil. A meal so memorable that it changed the course of her life and perhaps a nation forever. Not only do we dine here as a group for lunch à la Julia- we actually have the very same menu she devoured so many years ago. What will it inspire you to do? Bon Appétit!
Rouen is more than just Joan and Julia, it has an impressive cathedral immortalized in a series of Monet paintings, an amazing medieval clock, and lots of fun shopping. Enjoy the city on your own before returning to Paris in the evening.
Day Seven- It is time to find that special antique souvenir! Let's journey to Les Puces, the largest flea market in Paris and perhaps the world. You can find anything here- yes anything. From jewelry and clothing to vintage postcards and books to marionettes and carousel creatures- it is all here! Take your time to peruse all the various areas. The rest of the day is yours to fit in your own Parisian agenda.
Day Eight- Our last full day in this world class city begins with a visit to a world class cemetery, Père Lachaise. Permanent residents include former subjects such as Sarah Bernhardt and Isadora Duncan. Visit the cemetery at your own pace taking care to visit all your favorites.
The rest of the day is yours to check off those bucket list items- have you been to the top of the tower yet?
Tonight let's say à tout à l'heure instead of au revoir over dinner on the Seine river. Climb aboard the famed Bateaux- Mouches for a 3 course dinner and watch the most romantic city in the world glide by. The city from this vantage will surely leave you saying "Oh la la!" Let's shout one final "santé" to the new friends and lasting memories made.
Day Nine- Find yourself one last croissant before you check out of our cozy host hotel. We wish you safe travels home!
Living La Vie en Rose with The History Chicks and like-minded travelers will make this an adventure to remember. Whether they came for the kings, cuisine, caves or couture these women left a lasting impression on Paris or Paris on them. Which will it be for you?
*The Moulin Rouge is a traditional French cabaret and does contain some tasteful nudity.
Package Inclusions:
8 nights 4-star accommodations
Daily full hot breakfast
7 day metro pass
Welcome cocktail party
Evening double decker city highlights tour
Women of Paris walking tour
Visit to La Conciergerie
Visit to Sainte- Chapelle
Versailles- state rooms, gardens, trianon
Dinner at Le Vieux Belleville with classic accordion music
Guided tour of Musée D'Orsay
Authentic French wine and cheese tasting experience
Gourmet lunch in the caves of Veuve Cliquot
Joan of Arc museum
Julia Child's lunch at La Couronne
Evening show at the Moulin Rouge
Seine River dinner cruise
The History Chicks Field Trip to Paris swag
Package Pricing:
The package price for a single room is $5,150 per person. The package price for a shared room is $4,150 per person. A $800 deposit is required at the time of registration and is non-refundable as of 4/1/23. The final balance will be due on 8/1/23 and will be paid by invoice to Like Minds Travel and is non-refundable at that time. If you are registering with a roommate, but want to be billed separately, fill out the form individually and place each others name in the space indicated. You will be paired in the same room.
Airfare and airport transfers are not included in the package price. Like Minds Travel recommends flying into Charles De Gaulle Airport (CDG) and utilizing ride share services or taxis to transfer to the hotel.
This tour is for guests 18 and older. Group size is capped at 40 people.
Please read our terms and conditions.