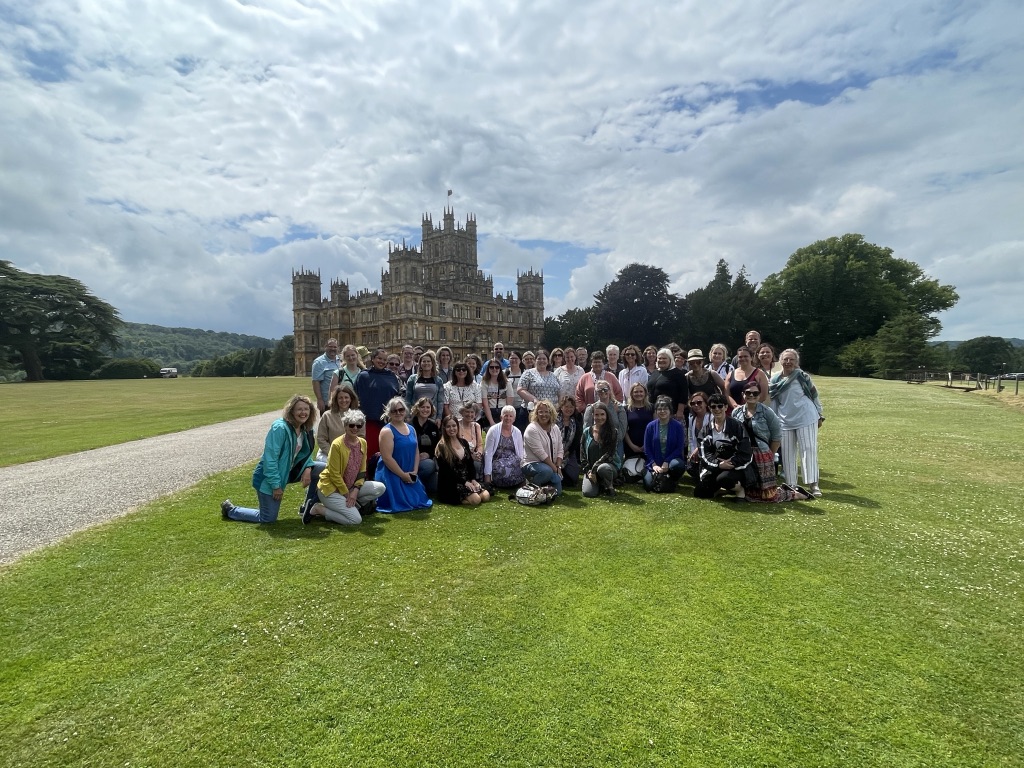 September 22-30, 2023
3 SPOTS LEFT!!!
Keep calm and join The History Chicks in London! From suffragettes to queens; rebel women to Dollar Princesses, London has it all and this 8-day History Chicks Field Trip will bring to life some of history's most fascinating women. Experience afternoon tea with an etiquette expert, take in the English countryside, and see top sites like Westminster with a Blue Badge guide while hanging out with Susan and Beckett on this unforgettable tour of London!
Day One- Welcome to London, a city that embraces a vibrant multi-cultural scene while honoring their many customs and traditions. Check into the hotel before joining Susan and Beckett for a welcome cocktail reception at the hotel. Afterwards we will embark on an unforgettable tour atop an iconic taste of London: An open-air double-decker bus. This evening tour will allow you to relax and get your first glimpse of this charming metropolis as the landmarks of London come to you!
Day Two- Rise and shine each morning over a buffet breakfast at the hotel to power up for a full day of making history come to life.
Today we begin by meeting our official Blue Badge Guide for a tour of Westminster Abbey. The Abbey is best known as the site of coronation for England's kings and queens but took center stage in 2011 for the nuptials of Prince William and Duchess Catherine. Our Blue Badge Guide will give us all the details and history of this storied church including the tombs of many notable Britains.
Next up- Buckingham Palace! Only open to the public a few months of the year, this palace has been home base to all the royals since Queen Victoria made it home in 1837. Our visit is a self guided tour of the state rooms. Once you have admired the royal treasures, the evening is yours to relax.
Day Three- 900 years of history, a former fortress, palace, and prison, the Tower of London may be the most visited site in London. All the better to have it to yourself before the crowds descend! We begin the day with a private viewing of the Crown Jewels. Crowns, sceptres, swords, and coronation orbs are the highlight of the King's personal jewelry box – many of which will be highlighted at the King's coronation in May. Enjoy exclusive time with all the jewels before touring the rest of the Tower, including the royal residence, the prison, and the infamous execution location of Anne Boleyn, Catherine Howard, and Lady Jane Grey. With 900 years of history to unearth, you may need more time. Feel free to stay and enjoy more Tower sites and stories or venture out into the city for your own exploration. Check out the Borough Market, a fantastic way to have a delicious authentically London lunch or join "Jack the Ripper" walking tour in London's bustling East End.
Day Four- After the previous day's busy pace, you will be ready to board our motor-coach and watch the bucolic English countryside pass by as we make our way to the stately Blenheim Palace. Our day-trip in the English countryside starts off with an audio guide tour of the state rooms allowing you to take in the splendor of the palace at your own pace before gathering as a group for a lunch in the vast gardens. The estate is expansive, and we will allow time to relax and enjoy the traditional English gardens designed by famous English Landscaper, Capability Brown, before touring the downstairs portion of the palace. Learn how a team of servants made things run seamlessly for those upstairs on this guided tour. We return to London in the late afternoon and the evening is once again yours.
Day Five- Perhaps women would still be voting through their husbands if it weren't for the brave women who fought for the right to vote just over 100 years ago. Today we honor and learn about those courageous women by taking a Suffragette walking tour. Our knowledgeable guide will guide us throughout the city and tell the inspirational story of the suffragette movement as it corresponds to landmarks in the city.
With all that walking you will be ready to rest for a bit so we have arranged a lovely afternoon tea at the ultra-posh Fortnum and Mason's, arguably the world's most exclusive grocery store with royal customers. Learn to be a proper lady or gentleman over tea, joined by a leading British etiquette expert. Get the low down on the proper manners required of such an occasion. Pinkies up!…or not???
Awash with new manners and proper etiquette, feel free to shop for provisions in Fortnum and Mason's or chart your own path in the city. With museums, theater, and eclectic local markets the city is overflowing with choices.
Day Six- Of course we are familiar with Downton Abbey! Today just may be a pilgrimage of sorts. We board our motor-coach and journey through the English countryside for an exclusive private tour of the legendary Highclere Castle. We will be greeted by one of the estate guides and led to the heart of the home, known as the saloon (where the Christmas parties were held) with beautiful, vaulted ceilings and open-hearth fireplace. Settled near the fireplace we will put our tea manners to use and channel or inner Lord and Lady for biscuits and a cup of tea before touring all the locations that stole our hearts and captured our imaginations. The manor is significant for more than just Downton. Our guide will tell us the real story of the home and its inhabitants, including the 5th Earl of Carnarvon who discovered King Tut's tomb in 1923. Our tour will include some of these Egyptian artifacts he discovered on his many expeditions to Egypt.
From Highclere Castle we head to a humbler home but of no less historical importance, Jane Austen's home in Chawton. Jane lived and wrote all her novels in the small country home after moving here in 1809 with her mother and sister. The museum houses many personal effects of the author such as first editions of her works, jewelry, and furniture.
Day Seven- Hampton Court – Home of the most infamous of English kings, Henry VIII. The 500-year-old palace was originally built for Cardinal Wolsey, who soon realized it would be best if he gave it over to Henry VIII – you know how much Henry liked getting his own way! Your tour of the palace includes an audio guide and a lunch voucher to be used in their lunch hall. The rest of the day is yours to explore London.
Now that you have seen their home- learn their story- Broadway style! Tonight you have the option of attending SIX the musical of the six wives of Henry VIII. Catchy pop style music, high energy choreography and incredible talent create a memorable night on London'd famed West End theater district!**
Day Eight- Queen Victoria's legacy in London is evidenced all over Victoria and Albert Museum, perhaps her biggest mark on the city. A product of the 1851 Great Exhibition, this decorative arts museum is vast and considered the largest in the world. To help us focus, we will join a museum guide for a custom tour geared towards women in history while still allowing you time to seek out your own interests.
We will regroup this afternoon and make our way through Hyde Park on our way to Kensington Palace. This palace has been very significant to the royal family since it was purchased by William and Mary in the late 17th century; Queen Anne died here, Queen Victoria was raised here, Diana spent her time as princess here, and William and Kate most recently called it home. We will tour the state rooms on our own.
Parting is such sweet sorrow, but tonight we must bid adieu. We say farewell in the most spectacular London style- on the Thames. We board a beautiful river boat and enjoy a three hour cruise with a five course gourmet meal and plenty of wine to toast to this once-in-a-lifetime adventure in London!
Day nine- Believe it or not, this action-packed itinerary has barely scratched the surface of sightseeing in London. Perhaps you need another day or two to check off your London bucket list? Please contact Laura Hart at laurahart@likemindstravel.com for any assistance with extra nights at the hotel. Otherwise you'll head back home today with memories of strong women ahead of their time and great new friends.
**SIX is an optional activity and not included in the package price. The show is around 80 minutes with no intermission. Tickets will range from $65 to $85. Please indicate if you wish to join the group for this outing on the registration form below.
Package Inclusions:
8 nights in a 4-star centrally located London hotel: K+K Hotel George Kensington
Full hot breakfast each day
Private tour of Highclere Castle
Evening double decker bus tour
Welcome cocktail party
Blue-badge guide tour of Westminster Abbey
Buckingham Palace self guided tour
Blenheim Palace state rooms tour
Blenheim Palace downstairs tour
Suffragette walking tour
Afternoon tea with an etiquette expert at Fortnum and Mason's
Jane Austen's home
Victoria and Albert Museum
Kensington Palace tour
Private viewing of the Crown Jewels
Tower of London audio guide
Hampton Court tour
Lunch at Blenheim Palace
Lunch at Hampton Court
Farewell dinner on the Thames dinner cruise
7 day Travel Card (public transportation pass)
Motorcoach transportation for the day trips
Awesome The History Chicks swag
Package Pricing:
The price for a single room is $5,200 per person. The price for a double room is $4,200 per person. There is a $800 deposit due at the time of registration to hold your spot. 50% of this deposit is non-refundable. The remaining 50% is refundable until April 1, 2023. The final balance will be due July 22, 2023 and is non-refundable at that time.
Please review terms and conditions here.
Airfare and airport transfers are not included in the tour package. Like Minds Travel recommends flying into London's Heathrow Airport (LHR). Rideshares and Taxis are the recommended method for getting in to the city. The Tube is also an option on the Piccadilly Line, exit at Earls Court and the hotel is steps away.
This tour is for guests 16 and older.