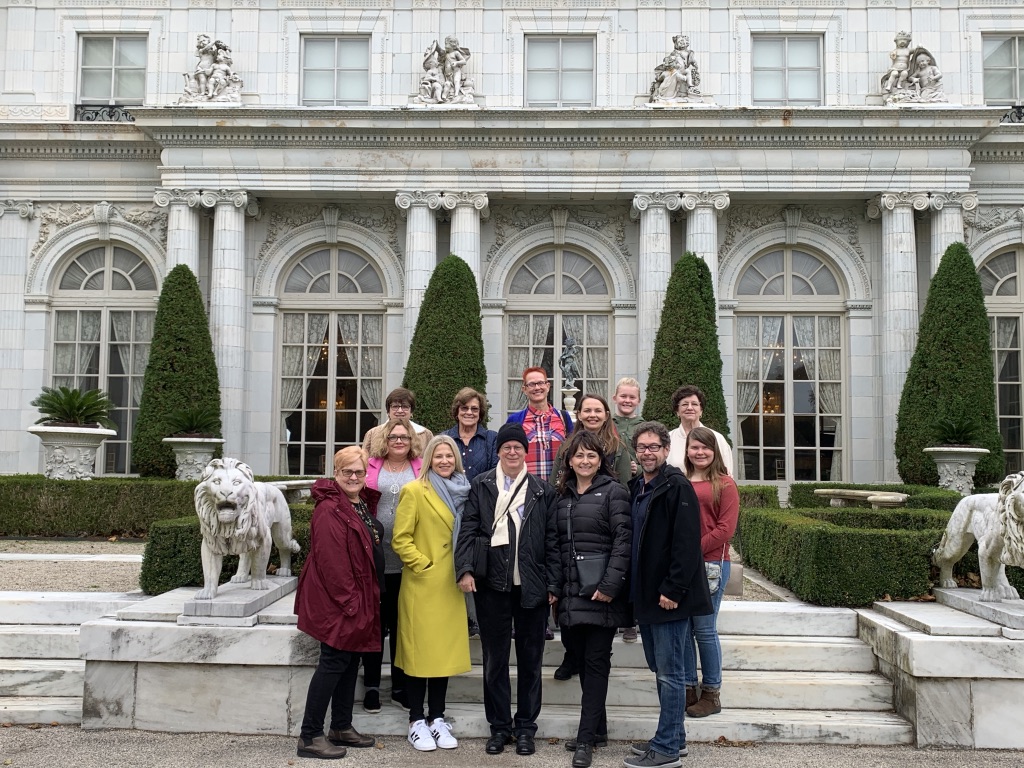 October 20-24, 2019
Step back to a time of opulence and grandeur when Newport, Rhode Island became the backdrop, setting the stage for America's wealthiest. Spend some time in this historical town with Gilded Age expert and Architect Gary Lawrance. Mr. Lawrance is a best-selling author and lecturer on Gilded Age architecture. He is also the creator of various successful social media groups pertaining to The Gilded Age. Don't miss the chance to join Gary on this unforgettable tour of Newport.
Day one: Arrive in Newport and check-in at the Newport Harbor Hotel and Marina! This newly renovated hotel is centrally located on the waterfront adjacent to Bowen's Wharf, home to many unique shops and restaurants. This evening we will gather for a "Welcome" cocktail reception at the hotel to meet Gary and your fellow travelers.
Day two: Enjoy a breakfast buffet at the hotel each morning with a beautiful view of the marina. All aboooooard our charming trolley — our transportation for the remainder of the trip! Today we visit the crown jewel of Gilded Age mansions, The Breakers, the Vanderbilt's summer cottage. Experience the sprawling estate both 'upstairs and downstairs' before joining a guided tour, 'Beneath the Breakers,' where you'll learn the modern technology used by the Vanderbilts in the 1890s. After The Breakers, lunch on your own at Bowens Wharf. Let your feet rest at the hotel or enjoy the many shops in the area. After lunch the trolley will take us to the newly restored Belcourt Mansion, built by Oliver Belmont and home to notorious social climber Alva Vanderbilt after her marriage to Oliver in 1896. The evening is free to enjoy all the Newport has to offer.
Day three: We begin today with Marble House, home to Alva Vanderbilt before her marriage to Oliver. This house, with its excessive use of marble, quickly set the standard for Newport homes going forward. After Marble House, see the romantic heart-shaped staircase and grand ballroom during our tour of Rosecliff. Relax and enjoy lunch as a group at La Forge Casino, located at the Interntional Tennis Hall of Fame. This restaurant has been a Newport dining standard for decades and is the perfect iconic location to chat, compare notes and sip a beverage. Last stop of the day is Chateau-Sur-Mer. This home was the site to many lavish parties and is a great example of late 19th century architecture. It is believed Chateau-Sur-Mer ushered in the Gilded Age to Newport. After three mansions in one day relaxation is in order, enjoy another night at your leisure in Newport.
Day four: Roughpoint is our first mansion of the day. Home to Doris Duke, this home provides spectacular ocean views. We begin with a stroll through the gardens to enjoy that ocean view followed by a tour of the mansion. Lunch will be at your leisure at the wharf. Rest and recover before experiencing life as a servant. The Elms Servants Tour will give you a great understanding of what it took to keep these mansions running. Of course, after the servants tour we will enjoy life as the "other half upstairs" – a tour of the main house, built for Philadelphia coal tycoon, Edward Julius Berdwin. Just as the Gilded Age came to end, so must our tour. Tonight we say farewell over dinner at a upscale Newport restaurant. Enjoy freshly caught seafood, drinks, and great conversation with new found friends!
Day Five: Check-out of the Newport Harbor Hotel and Marina. Believe it or not, there are still more homes to tour and things to do in Newport. Consider extending your stay in this New England hot spot. Contact Laura Hart at laurahart@likemindstravel.com for any extra nights at the hotel.
PACKAGE INCLUSIONS:
4 nights accommodations at the Newport Harbor Hotel and Marina
Entrance fees to all mansions listed in the itinerary
Welcome cocktails
breakfast buffet each morning
lunch at La Forge Casino
Farewell dinner including beer and wine
transportation by trolley to all included events